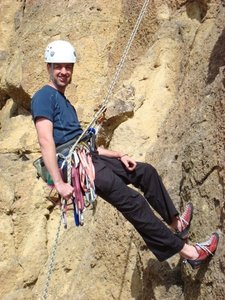 In June of 2008 I started rock climbing at a local gym, and instantly got hooked. I still can't fully explain the fascination I have with climbing, but it certainly includes an aspect of solving a three-dimensional puzzle. When I started, the easiest routes in the gym (graded 5.7) were difficult for me, but satisfying.
Within a few months I had already acquired a fair amount of gear, and I had the chance to climb outdoors (on toprope) with a good friend, (Scott DV), who was rediscovering climbing, (having climbed in Idaho years ago). We both found that there is some fine climbing to be had in the Portland area. We were just disappointed that we hadn't started sooner, because Oregon's wet season soon started interfering with outdoor climbing.
I got through the winter months by being lucky enough to find a climbing partner, (Scott D), willing to train with me 3 times a week, (and helping to motivate me to get up at ridiculously early hours to climb before work). We both took technique classes that took our climbing up a notch. By the time we were ticking off routes at 5.9, we took lead-climbing class and starting leading in the gym in January 2009.
An unseasonably cold and wet month of March kept us in the gym, where we kept at our routine, leading at 5.8/5.9 and toproping at 5.10- (with several 5.10+ projects). In April, the sun finally came out and we took the first chance we could to get outdoors with a road trip to Smith Rock and some of the best climbing in Oregon. Our first experience leading outdoors was very satisfying, (and very different than in the gym), with each of us succeeding at 5.8 leads.
Back at the gym two days later, we decided that if we're going to start leading at 5.9, we'd better be working 5.11 in the gym. So we started working our first 5.11- project. It was grueling, (and we didn't make it through the crux without cheating with some weight on the rope), but we did get to the top, and it was a blast.
One of my favorite things about climbing is that the routes are graded on an open-ended scale. It's fantastic to know that no matter how much I improve there will always be routes ready to punish me and put me back in my place.